Looking for the best place to vacation in the Caribbean? Look no further than the US Virgin Islands (USVI). Long and picturesque beaches, swaying palm trees, a lively local culture, and fascinating marine life are just a few of the reasons why you need to visit any one of the islands in this Territory. Here's what you need to know before visiting the US Virgin Islands.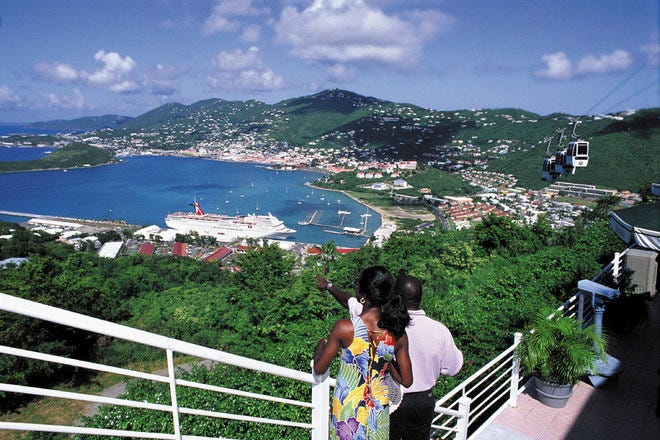 Americans can travel without a passport.
No passport or it's about to expire? Worry not! Travelers from the US can visit the USVI without a passport. As long as you haven't touched down on foreign soil before arriving, you do not need a passport to enter the US Virgin Islands. All you need is a valid form of identification.
Why don't you need a passport to visit the US Virgin Islands? Since the USVI is an organized, unincorporated United States territory, travel to the islands is therefore considered domestic travel for US citizens. That's why it's one of the most hassle-free vacations you can take in the Caribbean.
Pack reef-safe sunscreen.
The USVI strives to keep its waters safe for marine life. That's why the USVI has introduced a sunscreen ban for any product that contains one or more of these three chemicals: oxybenzone, octinoxate, and octocrylene. These have been shown to damage coral reefs, and they are potentially hazardous to humans as well.
When looking for alternative sunscreen, check the ingredients on the back or look for it to say "reef safe" somewhere on the bottle.
Bring your swimwear, sunglasses, and a sun hat.
The sun rays are strong in the Caribbean. So, pack your swimwear, a quality pair of sunglasses, and a sun hat for ultimate UV protection. You may even consider purchasing a rash guard for added protection while swimming in the sea or sitting out on the beach.
Bring some cash.
Many vendors will only accept cash, so make sure you have enough when out and about exploring the islands. This includes small boutiques and beachside vendors where you will absolutely want to purchase that delicious pate or island souvenir.
However, don't worry about bringing all the cash you'll need beforehand. There are plenty of ATMs scattered around the islands, so there's no need to take out a massive amount before you board the plane. Plus, most businesses accept credit cards or some other form of digital payment (e.g. PayPal).
You can enjoy USVI travel without a car.
While a car is handy, you don't necessarily need one. There are "dollar safaris", or open-air buses, that are popular with residents for their cheap fare, often $1-$2, and their frequency throughout the day. You can easily catch a safari at all major bus stops and in some areas that are unofficial "safari stops". Keep in mind safaris run on the driver's schedule and not yours. On the other hand, you can call for a good old-fashioned taxi. Taxi rates are set by the island's Taxi Association and fares are posted throughout the island, so you'll always know the price in advance. Taxis will also meet the ferries to take you to other islands in the USVI.
But if you do decide to rent a car, keep in mind that Virgin Islanders drive on the left. Be sure to rent in advance of your stay.
USVI travel to other islands is pretty easy.
There are many islands in and around the USVI, but the main ones include St. Thomas, St. John, St. Croix, and Water Island. You can access St. Thomas, St. John, and Water Island by ferry. You can also go from St. Thomas to St. Croix by both plane and ferry. Ferries are fast and reliable in the USVI.
For the smaller islands and cays, you can only get there by charter boat. Be sure to spend a day on the water when in the USVI.
Learn & Follow USVI cultural manners.
Politeness is the standard in the USVI. So, when you visit the US Virgin Islands, it's standard to say "good morning", "good afternoon," or "good evening" to greet locals and when you enter a place of business or someone's home. There are also a few other things to keep in mind, including wearing a swimsuit cover up when entering business establishments, and being open to learning the correct pronunciation of Virgin Islands names, places, and things. Know that the USVI is filled with deep, interesting history and is a melting pot of beautiful, diverse cultures. Soak in all you can and be open to learning something new each day!
Looking for COVID-19 updates about the USVI? Continue reading here for more info.
Have more questions or eager to begin planning your US Virgin Islands vacation? We're here to help you make sure it's the best. Reach out to us!
Follow us on Facebook, Instagram, TikTok & Pinterest @treklocalusvi