Known as a honeymooner's paradise for its incredible beaches, breathtaking sunsets, and stunning natural beauty, St. Thomas is one of the most romantic islands in the world. As an island teeming with romantic appeal, it's no surprise that the restaurants of St. Thomas are equally as intimate and romantic.
Whether you are celebrating a birthday, anniversary, Valentine's Day, or are just looking for the perfect spot for a hot date—these world-class St. Thomas restaurants are guaranteed to make for an unforgettable evening.
In no particular order, here are the top romantic restaurants in the US Virgin Islands (St. Thomas)
Nestled in the beautiful, upscale Yacht Haven Grande Marina, this fine dining restaurant is one of the few places on St. Thomas that offers a seven, nine, or eleven course tasting menu with a wine tasting option to match. They use tons of local ingredients and have mouthwatering dishes like the butter poached halibut over a cassava foam topped with a passion fruit butter. Take it from us, it's worth the money AND you're supporting local chefs and farmers.
Located right on the water in historic Frenchtown, Sea La Vie is a cozy French bistro with covered outside seating. With photo-worthy cocktails, classic French dishes, and one of the best cheese boards on the island, this restaurant provides the ideal atmosphere for a romantic outing.
An open-air eatery set in the heart of Charlotte Amalie, this local favorite serves up tapas and authentic Spanish fare. The mouthwatering dishes at Amalia Café are as vibrant as the atmosphere. For a meal you'll be salivating over long after it's gone, make sure to try the lobster, lamb chops and crème brulee.
Perched up high on a mountain in Charlotte Amalie, Prime boasts jaw-dropping views of the harbor and an immaculate steakhouse menu. For the ultimate date night, start your meal with some of their delicious cocktails at sunset and enjoy one of the best views in St. Thomas. You will soon find out why they are often recommended as one of the top romantic restaurants in the US Virgin Islands.
This beachside restaurant features dishes that are as visually stunning as they are delicious, with both indoor and outdoor seating to choose from. Their ahi tuna nachos are out of this world and you can never go wrong with the freshly-caught fish.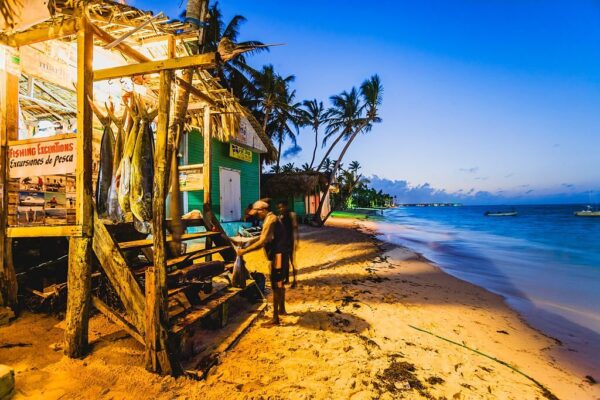 This St. Thomas favorite has some of the best Italian food you can find on the island and is located in the heart of Charlotte Amalie. Between the rustic decor, authentic dishes, and soft Italian music, you'll feel like you've been transported to Italy. Don't forget to try the bananas foster, it's to die for!
Set in a 200-year-old restored plantation field house overlooking the Mahogany Run Golf Course, this fine dining restaurant boasts unique dishes, amazing cocktails, and an extensive wine list. The atmosphere is inspired by the local culture and makes for a blissfully intimate experience.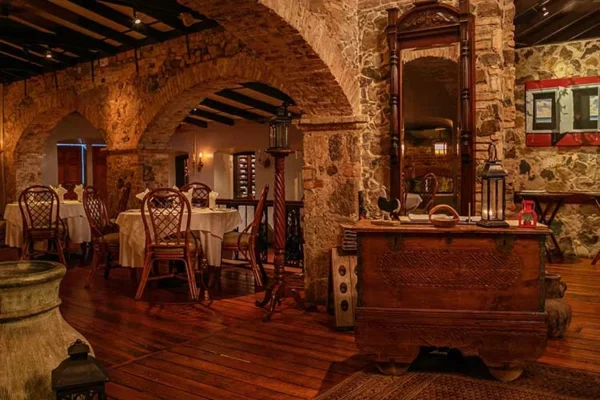 Located just a short ferry ride away on the sister island of St. John, Morgan's Mango is an open-air restaurant in the thriving town of Cruz Bay. With a melting pot of cuisines that perfectly reflects the culture of the Caribbean, the menu at Morgan's Mango is stacked with mouthwatering dishes. The Tostones Ramos appetizer is positively divine, so we highly recommend starting your meal there.
From casual to fine dining, these are some of the most romantic restaurants in St. Thomas from every end of the island. Whether you're looking to embrace the island vibes with a locally-caught seafood dish or craving a high-quality steak to pair with your favorite bottle of wine, the options are endless here in St. Thomas.
For more information on dining options, activities, and cultural tips, TrekLocal is here to help. If you're planning a trip, our fully-digital travel agency can put together a curated travel itinerary to ensure that you have the vacation of your dreams. Let us do the work, so you can focus on the fun! Learn more here.
Follow us on Facebook, Instagram, TikTok & Pinterest @treklocalusvi