Yes, it's time for a trip to St. John in the United States Virgin Islands! The United States Virgin Islands is a tropical paradise comprising three major islands that are home to many beautiful beaches. But, the island of St. John in particular boasts some world-class favorites. With crystal clear waters and sandy shores at many of its beaches, you won't regret having made this decision. There are tons of beaches to choose from on St. John, so we've listed our top five (5) to get you started.
Trunk Bay 
Tall coconut palms, aqua blue sea, and long stretches of beautiful white sand to Instagram. These are only some of what make Trunk Bay a favorite and one of the best beaches in the world. Even more than its tranquil beauty, Trunk Bay has some of the best underwater snorkeling with a trail leading to coral formations and marine sea life. Simply purchase your snorkeling gear and begin your underwater journey. For those who are more interested in lounging on the sand, Trunk Bay beach offers various beach rentals like beach chairs, coolers and more, with a delicious snack bar and grill. With so many different amenities just for you, Trunk Bay is the only beach that charges an entrance fee of $5. After all, it is the most visited beach on St. John and one of the most highly-rated in the world.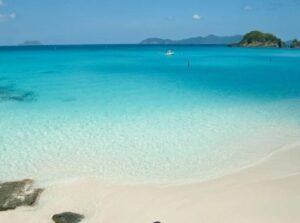 Maho Bay
Next on the list is another world-class beach and favorite among local Virgin Islanders, the iconic Maho Bay. The crystal blue waters at Maho Bay are filled with abundant sea life so it's perfect for an exciting underwater experience. Maho Bay is best known for swimming with sea turtles, some of which are the leatherback turtles. Snorkel Maho Bay to spot sea turtles, stingrays, and more that feed in the sea grass just off the beach.. Plus, there are even kayak rentals if you want to explore marine life while you paddle across the bay. Splash around the beach at Maho Bay or walk across the street to enjoy the many bars serving up local rum cocktails, like the local Bushwacker.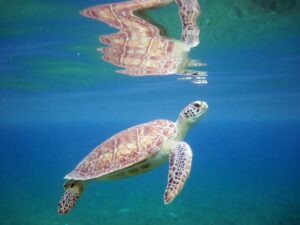 Hawksnest Bay 
Hawksnest Bay Beach is one of the most beautiful beaches on St. John. Just a few minutes away from the ferry dock, it's perfect for all travelers looking for a conveniently located beach on St. John. Interested in snorkeling at Hawksnest Bay? There's a shallow reef located just off the center of the beach where you can spot Mustard Hill and Elkhorn corals and even get a close look at the colorful angelfish and parrot fish. Plus, you might see a sea turtle if you're lucky. Even better, Hawksnest Bay offers one of the best gazebo for parties, barbecues, and family gatherings on St. John.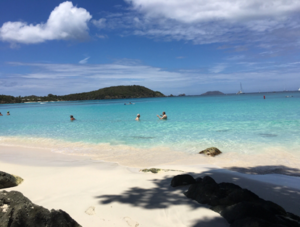 Cinnamon Bay Beach and Campground
Enjoy natural beauty, escape from busy schedules, and nourish your soul at the popular Cinnamon Bay Beach and Campground on St. John. Experience overnight camping at eco-tents or cottages and get easy access to the beach. Watersport rentals include everything from snorkeling gear, kayaks, paddleboards, and beach chair rentals. You can even go birdwatching or hike a trail to truly connect with nature at Cinnamon Bay. Observe the beautiful birds on a nature walk or experience breathtaking views of the flora and fauna on your hike. There's also a store and restaurant located on site at Cinnamon Bay with everything you need. Providing you with so many different accommodations, you can make endless memories and do whatever your heart desires at Cinnamon Bay.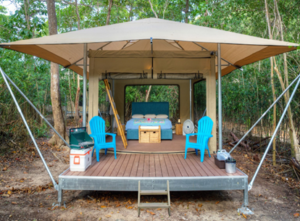 Francis Bay
Located just north of Maho Bay, Francis Bay is a local favorite on the island of St. John for its level of seclusion. Compared to beaches like Trunk Bay and Maho Bay, Francis Bay beach is best if you are looking for a laid-back vibe without the crowds. Enjoy the clear waters and lush greenery of St. John while still getting to experience marine life as Francis Bay makes for excellent for snorkeling. Discover beautiful underwater terrain covered in corals and sea fans, tangs, parrotfish, and reef squid. For those who are interested in visiting the sacred Annaberg Sugar Plantation, it is just a 5-10 minute walk from Francis Bay, making for an informative and breathtaking walk before or after enjoying Francis Bay beach.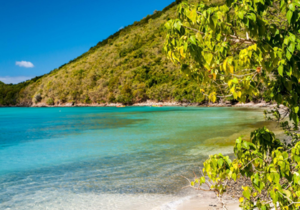 There are so many stunning beaches to explore on St. John with natural beauty and superb marine life. Let our team at TrekLocal plan your vacation to the United States Virgin Islands to help you maximize your getaway!
Read our Top 10 Beach Tips When Visiting the U.S. Virgin Islands to prepare for your beach adventure in the U.S. Virgin Islands. 
Follow us on Facebook, Instagram, & TikTok @treklocalusvi