Affordable Ways to Vacation in the US Virgin Islands
Interested in exploring the U.S. Virgin Islands, but on a budget? Your dream tropical vacation doesn't have to be expensive. With so much to offer, you'll enjoy discovering all the low-cost dining, leisure, lodging, and transportation options around the territory! Keep reading to discover how to get the most bang for your buck while vacationing in the US Virgin Islands.
Dining
Save money vacationing in the U.S. Virgin Islands by eating at local food trucks and food shacks! Food trucks are a great way to immerse yourself in the local culture and can be found throughout the territory along beaches and in shopping plazas. These mobile restaurants sell inexpensive local favorites, like pates, dumb bread, johnny cakes, and roti. While the food shacks aren't mobile themselves, they offer the same delicious, inexpensive cuisine.
In St. Thomas, try Mr. Big Life food truck located in Vendor's Plaza. They serve authentic Caribbean dishes like Curry Chicken, Stewed Oxtail, and Mutton. In St. John, visit Little Olive food truck located on Centerline Road in Cruz Bay serving up a blend of West Indian and Greek cuisine made fresh daily with local vegetables. In St. Croix, be sure to stop by Blues Backyard BBQ & Grill in North Shore for slow, smoked brisket, ribs, burgers and much more.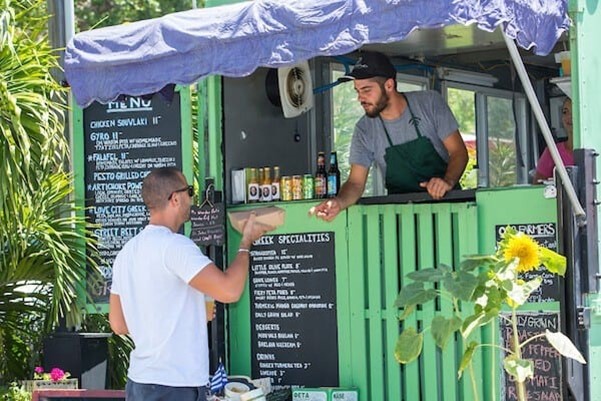 Leisure
Spend your vacation enjoying all the free and inexpensive activities the USVI has to offer. Swim in the territory's world-famous beaches and hike scenic trails for an enjoyable experience that won't put a dent in your budget. The Magen's Bay Trailhead is a fantastic hiking trail in St. Thomas that leads to Magens Bay Beach, top rated in St. Thomas and one of the top ten in the world.
In fact, try spending a day beach hopping in St. John, visiting beaches like Hawksnest Bay and Trunk Bay, some of the most beautiful in the world. USVI beaches have beautiful waters that are perfect for not only swimming, but snorkeling colorful coral reefs alongside turtles and stingrays. Perhaps take a stroll along the newly paved waterfront in St. Thomas taking in the views of a natural harbor. Feel free to pop in and out of the alleyways along historic Mainstreet and Backstreet and be sure to tour the Fort Christian museum, the oldest standing structure in the U.S. Virgin Islands.
For inexpensive activities, try taking the ferry to Water Island to explore the 0.7 mile island via golf cart. Bar hop in St. Thomas in Havensite or RedHook. In St. Croix, Caribbean Sea Adventures offers a Sunday Funday Beach tour for $35 per person. Try an island tour to get to know any one of the U.S. Virgin Islands in an open-air bus, locally known as a safari.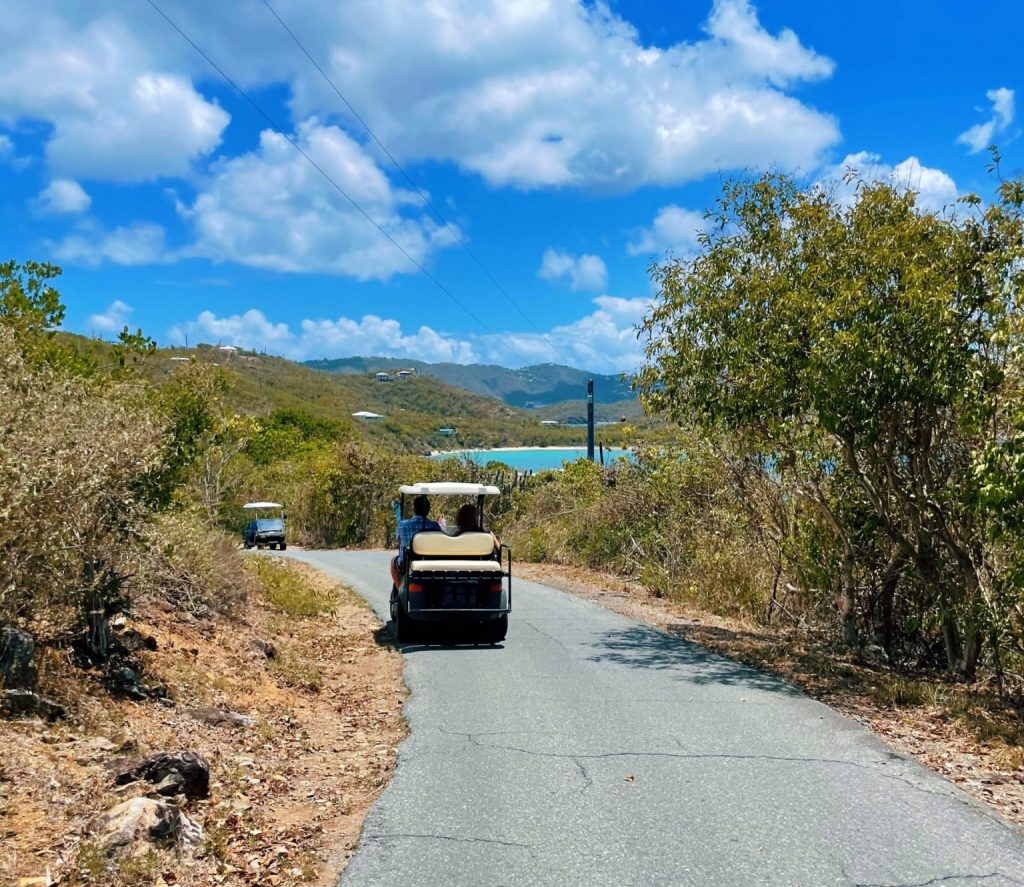 Stays
No need to spend the bulk of your budget on a place to stay! There are plenty of boutique hotels and private rentals that can save you valuable cash on your trip.
AirBnBs are commonplace in the U.S. Virgin Islands and are a great way to not only save money, but to get immersed in the local culture and connect with friendly locals. In St. Thomas, there are many affordable AirBnBs for under $100 a night. Look for those near major hubs, like Red Hook, Downtown Charlotte Amalie, and Frenchtown. In St. John, stay at the Inn at Tamarind Court for a great rate of $72 per night. Located in Cruz Bay, Tamarind Court is close by Cruz Bay Beach and the Virgin Islands National Park. In St. Croix, check out this private condo. Located in Kingshill, the entire condo is available for $105 per night. This rental features a view of Long Reef, Christiansted, and Buck Island. Indeed, all of these views are unmatched!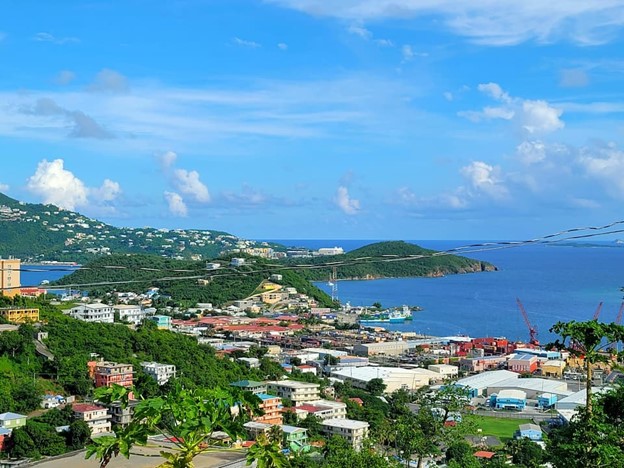 Inexpensive transportation
Be sure to travel by safari for a cheap and inexpensive ride through the USVI! Safaris are much more affordable than private taxis, usually ranging from $1-2 for a ride across island. If you're willing to wait a few minutes at one of the designated stops along the main safari routes, the ride will be well worth it. Just hop on and press the button above your seat when you're ready to hop off.
If you're planning for a longer stay or have lots of activities in mind, renting a car would be more cost efficient. There are many different car rental services in the US Virgin Islands. Be sure to call your desired company ahead of time to reserve the best rates. Rental car prices too expensive? Try renting a scooter for fast and reliable transportation for a fraction of the cost.
In pedestrian-friendly areas, like the waterfront walkway in St. Thomas, you may be able to walk to your destinations. Walking is a popular choice for people who plan to explore downtown or Redhook.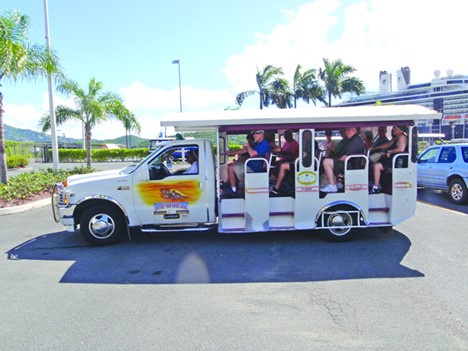 Mind the season you travel
By planning which season you choose to visit the USVI, you can book the best vacation for the best possible price. Flight prices are highest during peak travel season, so try avoiding these high traffic travel times. However, keep in mind that slower seasons may mean tons of rain or a potential storm. Consider the time of the year you are traveling to the U.S. Virgin Islands and what that means for the quality of your experience.
With a multitude of dining, recreation, hospitality, and transportation experiences, the US Virgin Islands has many options to choose from to make your vacation in paradise an affordable and unforgettable one.
Got questions or need more help planning your trip? Don't hesitate to contact us at Treklocal. We will create a 100% custom travel itinerary for you for only $35 for each day planned. Don't miss out an a unique, culturally immersive vacation tailored to your needs.
Follow us on Facebook, Instagram, TikTok & Pinterest @treklocalusvi