The U.S. Virgin Islands is the ultimate Caribbean vacation destination because of its abundance of world-class beaches, its vibrant culture, tasty cultural foods, and top-notch service. Because of this, visiting the Territory is constantly in high demand. That's why we created a checklist of important things to know before visiting to make your trip a lot smoother. We're here to make sure your stay is enjoyable from the day you arrive. Here are our top 8 things to know before visiting the U.S. Virgin Islands!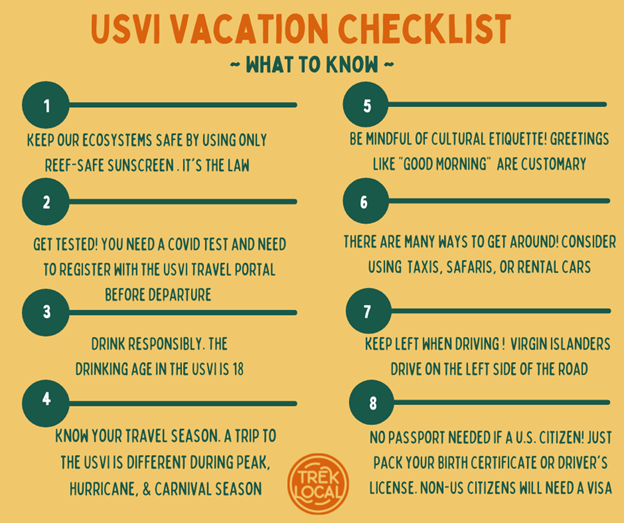 Note: If a U.S. citizen, you no longer need a COVID-19 test to travel to the USVI if already vaccinated. Find out more here.
Vacationing in a new culture can be made simple with the proper planning. Our U.S. Virgin Islands checklist should help you feel more confident before you hop on that plane. For more on "what to bring" or for assistance with building your U.S. Virgin Islands travel itinerary, we're here to help! Have more questions that need answers? Reach out!
Follow us on Facebook, Instagram, TikTok & Pinterest @treklocalusvi