Planning a solo trip to the United States Virgin Islands (USVI)? You're in the right place. Go on an adventure of self-discovery and immerse yourself in the rich culture of St. Thomas, the capital of the United States Virgin Islands. This solo-friendly destination welcomes vacationers from all backgrounds and has tons of experiences that provide life changing experiences. From world-class restaurants, award-winning excursions and beach front hotels, St. Thomas is both a safe haven and fun destination for solo travelers who want an unforgettable Caribbean experience. There is so much to do in St. Thomas (USVI). Here are some top activities we recommend!
Take an Island Tour
When you arrive in St. Thomas (USVI), you should take an island tour to familiarize yourself with the island, the wider United States Virgin Islands (there are two other main islands), and you get to ask your tour guide any questions you have at the time.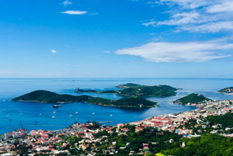 Visit some of the top attractions and experience the island with experienced tour guides like Dennis from Black & White Tours. Tour guides will take you to see stunning views from iconic places like Mountain Top, and the Skyline Drive scenic overlook where you can see the United States Virgin Islands and the neighboring British Virgin Islands (BVI). Plus, they can also take you to do fun activities, like sipping on a painkiller rum cocktail in a local restaurant like Gladys' Cafe, or shopping in historic downtown Charlotte Amalie on Mainstreet. Many island tours have packages that allow you to spend some time at world famous beaches like Magens Bay, named one of the most beautiful beaches in the world.
Swim in world-class beaches
Speaking of world class beaches, many locals and visitors alike never miss the opportunity to enjoy and relax on the beautiful beaches St. Thomas has to offer. Be sure to pay a visit to some of the popular ones below.
Magens Bay
Magens Bay is one of the most frequently visited beaches and is located on the north end of St. Thomas. It was also named one of the top ten most beautiful beaches in the world. Find food vendors and water sports rental companies scattered throughout the beach. Go kayaking or paddle-boarding in the clear blue waters of Magens Bay, take a stroll along the sandy shore, or go on a nature hike and spot the beautiful mangroves. Magens Bay is one of the top beaches in the world for good reason.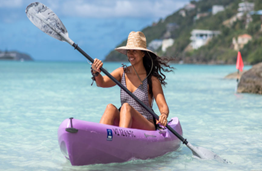 Coki Beach
Do you enjoy diving and snorkeling? Coki Beach, located on the East End, lies adjacent to Coral World, a large ocean theme park. Purchase your snorkeling gear from the Coki Dive Center to get a closeup of tropical fish, coral reefs, stingrays, jellyfish and a diverse underwater wildlife. Before you leave, don't forget to grab a bite at the local vendors selling fresh lobster and local delicacies where you can also get your hair braided. If you want a local vibe, Coki Beach will be the perfect spot.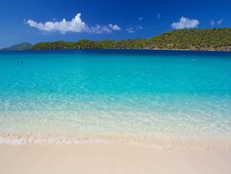 Visit Coral World Ocean Park 
Coral World Ocean Park isn't just for families, the ocean park is just as entertaining if you're adventuring on your own. Take a group or private tour to learn about different types of marine and land wildlife in St. Thomas, feed the lorikeets, sea trek underwater to explore the coral reef with no training needed, and spend hours looking at various types of fish, sharks and much more in the massive Coral World underwater observatory. When you're finished, walk just a few short minutes to Coki Beach for a dip in the sea.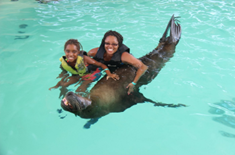 Visit the Annaberg Sugar Plantation on St. John
Only a 15-min ferry ride away, we highly recommend visiting St. John to explore the Annaberg sugar plantation. Go on this self-guided tour of the 18th century Annaberg sugar plantation to learn more about these sacred grounds and the enslaved who heavily influenced the culture, food, music, politics and very structure of the United States Virgin Islands.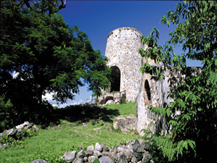 Zipline with Tree Limin' Extreme 
One for adrenaline? Zipline on the highest Mountain in St. Thomas to get sweeping views of not only the island itself, but neighboring islands as well. 
Experience breath-taking views of Magens Bay, St. John, and some of the British Virgin Islands in the rainforest of St. Peter Mountain. An exhilarating experience with a view that cannot be beat. 
Parasailing
Have you ever been parasailing before? Check out this water activity for a chance to fly over the water for a bird's eye view of St. Thomas and St. John. A fun opportunity to experience the best of both islands without even getting wet!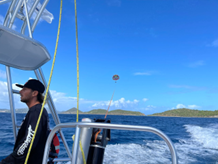 Fall in love with the beautiful landscapes, lush vegetation, and tall mountains from an angle. Your safety is guaranteed because you are pulled along by a boat as you parachute up in the air. It's a fun activity that can be considered both a land and water excursion.
Join a Food Tour in Historic Charlotte Amalie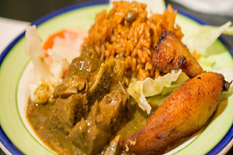 A lover of both history and good food? We recommend joining a food tour in historic, downtown Charlotte Amalie to sample the delicious local foods and to get perspective on the local culture that keeps St. Thomas thriving. Try local foods like curried chicken, plantains, conch fritters, and much more. Plus, sip on inventive drinks like the infamous Bushwacker, a frozen rum cocktail originated in the United States Virgin Islands. With that, you'll also get to visit many historic sites like Fort Christian and Emancipation Garden, all local landmarks with centuries of deep history. Leave this tour with not only the culinary experience you wanted, but also with a deep appreciation for the people and culture of the United States Virgin Islands.
There is so much to discover in St. Thomas (United States Virgin Islands) and it's a perfect destination for the solo traveler who wants adventure, food, history, culture, or relaxation. It truly is the perfect paradise to solo travel. Believe it or not, this list barely scratches the surface of all the ways you can enjoy St. Thomas. Our team at TrekLocal is excited to share our local knowledge with you to make your vacation worth every penny. Contact us at TrekLocal to help you plan the perfect solo vacation. 
Check out 8 Things to Know Before Visiting the United States Virgin Islands
Follow us on Facebook, Instagram, TikTok & Pinterest @treklocalusvi